JCS Fireplace, Inc. started in 1996 as an independent and family-run business.  Our goal has always been to sell quality products and maintain quality craftsmanship from start to finish for all of our customers.
We have full confidence in our ability to help guide customers to complete satisfaction whether it be the performance of the product or the final appearance of the fireplace.
We always strive to provide quality as well as value in the products we sell. Our installations are performed in a professional manner with experience and knowledge of the products we offer. As shown in our fireplace photos, uniqueness has been one of our paths to our success.
Taking time to educate our customers provides knowledge for them to make the best choice of a fireplace to fit their lifestyle. We hope you enjoyed viewing our web site and please feel free to contact us.
Our Team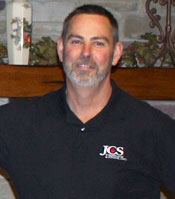 Jeff Sawyer
President of JCS Fireplace, Inc.
Jeff has been involved with the fireplace and stone industry for over 28 years. Jeff is involved in sales, installation, and servicing of all products offered by our company.
Cindy Sawyer
Vice President of JCS Fireplace, Inc.
Cindy has been working with Jeff for over 20 years and is involved in all administrative services, sales, scheduling of installations.
Eilene Franson
Office Assistant
Eilene frequently assists in the office and showroom. Eilene has been a part of JCS now for over 15 years
Joe Sawyer
Service Technician & Sales.
Joe has been with JCS for over 6 years. Joe is involved in inside sales, outside sales, as well as our service technician. Joe also specializes in our grill sales and services. He also is well trained with masonry custom doors in sales and installation.
Mark Hammond
Installation/ Sales
Mark has been employed with JCS for over 6 years now. Mark has become an accomplished installer of  gas direct vent fireplaces, wood stoves, gas stoves, and wood burning fireplaces. Mark is a trusted and valuable member to the JCS Fireplace team.
Ed Franson
Sales
Ed has been in sales industry for over 55 years and as been with JCS since October of 2013.  We are excited to have Ed join our company as his many years in sales is very helpful with our customers.  Ed feels the fireplace industry is very exciting and he shares his enthusiasm with our customers.
Staci Franson
Sales
I am an energetic gal who loves life and plans on enjoying every minute God has given me. Staci will be in the showroom Tuesday through Friday our regular store hours. Staci is a sales associate for JCS Fireplace and will be happy to help with your fireplace needs.
Cheryl Miller
Office Administrator
Cheryl is new to JCS and will be assisting in office administration and also be extra help in the showroom. Cheryl is anxious to learn and enjoys talking with customers.